Scribes
saurabh

is a manic- depressive graduate student with delusions of overturning well- established social hierarchies through sheer weight of cynicism. in his spare time he writes self-effacing auto- biographical blurbs.

dan

makes things up casually, effortlessly, and often. Never believe a word he says.

hedgehog

burrows between San Francisco and other areas rich in roots and nuts. His father says he is a literalist and his mother says he is very smart. Neither of them say aloud that he should spend less time with blegs and more time out of doors.
Pollocrisy
Blegs
Links
Archives
Search
Site Feed
17 March, 2006
Everyone else is posting videos on their blogs. Are we any less? Nay. Here, eat this. Nice to see television get things right occasionally.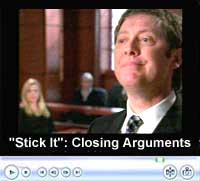 (Video courtesy of
boston-legal.org
)
Comments
Whoa. Holy blinding dye-job, batman. You stop watching TV for five years and it gets really . . . weird.
I mean, boo-yeah, except that is so painfully implausible it's kind of annoying. Maybe I've just forgotten what TV is like. . .that guy should play Oscar Wilde though, he's a dead ringer.
I am partial to the inclusion of cranky judge characters. 
Posted by
Saheli